Ever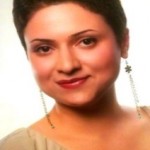 y year, the Toronto Rehabilitation Institute presents Team Excellence Awards to graduate students from each of the Institute's 11 research teams, in recognition of exceptional performance. Sareh Zarshenas was this year's winner from the Acquired Bain Injury & Society team.
Sareh is an award-winning former occupational therapy faculty member of the Isfahan University Medical Sciences,  Rehabilitation Sciences Department, in Iran. She has seven published papers and was successful in obtaining three grants. As a doctoral student in the Rehabilitation Sciences Institute she has taken leadership roles within a multi-centred international study on rehabilitation outcomes with world renowned rehabilitation research investigators. She recently led a successful symposia submission for an international conference which addresses sex and age among brain injured inpatient rehabilitation patients. She is a recognized leader within the Rehabilitation Sciences Institute and also at the Toronto Rehabilitation Institute-UHN. She is an enthusiastic participant of our Gender Work and Health Journal Club. Outside of academia, she is a member of the Hooshvar Foundation that supports building cultural diversity and the Iranian Women's Association of Ontario.
Congratulations, Sareh!