The A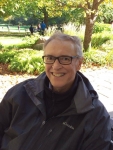 cquired Brain Injury Research Lab mourns the loss of Mr. Harry Joseph Zarins, executive director of Brain Injury Canada. A friend of the Lab, he served with great passion and dedication and will be missed. We look forward to honouring him at future conferences, and in communications.
Condolences may be shared in the online guestbook, through The Gazette obituaries site, or on his Facebook page. In his memory, please consider a donation to May Court Hospice in Ottawa or Brain Injury Canada.
To read more about Mr. Zarins' life and contributions, click here.