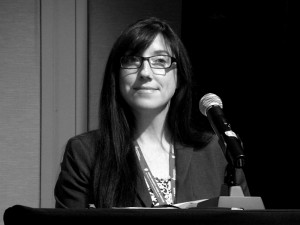 We warmly congratulate our doctoral trainee, Ms. Halina (Lin) Haag, who has been awarded a 2017-2018 Women's Health Scholars Award for her research in disabilities and traumatic brain injury (TBI). Lin's work focuses on women survivors of intimate partner violence (IPV) with resultant TBI, including its connection to mental illness, return to work and social inclusion. Currently, she is Co-Investigator on an ABI Research Lab grant, funded by the Canadian Department of Justice, which aims to develop supports for front-line workers serving women survivors.
Lin is a PhD student in the Lyle S. Hallman Faculty of Social Work at Wilfrid Laurier University.
Read more from Wilfrid Laurier University news:
Province recognizes Laurier PhD student's research on traumatic brain injury from intimate partner violence.