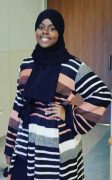 The ABI Research Lab wishes to recognize PhD candidate Samira Omar on her outstanding presentations and contributions to occupational therapy and traumatic brain injury rehabilitation! In February, Samira was one of the speakers in a series hosted by the Ontario Rehabilitation Alliance. The focus of the series was on recognizing racial disparities in rehabilitation. Samira's discussion centered on integrated care pathways for Black people experiencing Traumatic Brain Injury.
Samira also presented just this month at the School of Physical & Occupational Therapy (SPOT) scholars round at McGill University and at the University of Toronto's Faculty of Medicine's Anti-Oppression in Health Care and Sciences Learner-Led Virtual Symposium. Samira spoke about anti-Black racism and intersectionality in rehabilitation sciences at the scholars round at McGill University. Meanwhile, in her presentation at the University of Toronto, Samira spoke about an upcoming novel initiative about justice and equity in occupational science and occupational therapy designed for students by students in Canada.
Congratulations, Samira! The ABI Research Lab is proud of you for leading these discussions and are looking forward to your future contributions in rehabilitation practice and research!