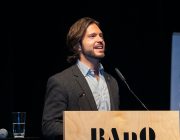 Enrico L. Quilico, B.Ed., M.A., Ph.D. (student)
Enrico is a Ph.D. student in the Rehabilitation Science Institute at the University of Toronto, ON and the Centre for Interdisciplinary Research in Rehabilitation, QC. His B.Ed. in English is from the Faculty of Education at Concordia University and his M.A. in Adapted Physical Activity is from the Faculty of Kinesiology & Physical Education at McGill University. Enrico developed a community-based physical activity program for adults with moderate-severe traumatic brain injury through the YMCAs of Quebec. His research revolves around that cross-provincial program and is supported by the Social Sciences & Humanities Research Council of Canada (SSHRC), Sport Canada, and Société Inclusive.
Enrico was a 2019 SSHRC Storyteller Winner and was honoured with the 2018 Changemaker Award by the Neurological Health Charities of Canada. In 2016, he raised over $10,000 for Brain Injury Canada through his participation in the Lake Placid Ironman. As a public speaker, Enrico has been advocating for brain injury awareness since 2008. He also teaches in the Social Sciences at the Cégep level in Montreal.